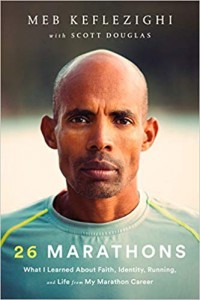 In addition to reading books, I've been (and will be) busy writing or co-writing them. Coming in 2019:
MARCH
26 Marathons, written with Meb Keflezighi. It tells the story of and lessons from each of the 26 marathons Meb raced as a pro.
APRIL
Paperback release of Running Is My Therapy.
LATE SUMMER
A CBD-for-athletes book, to be published by the same division of Penguin Random House that's publishing 26 Marathons. This project has come together quickly, and will need to get done quickly! So quickly there's not yet an official title, or a definite release date.
OCTOBER
Third edition of Advanced Marathoning, written with Pete Pfitzinger. Pete and I somehow found a way to make updating the second edition, which was released in 2008, take more time than starting from scratch.
Comments are off for this post
Digg this