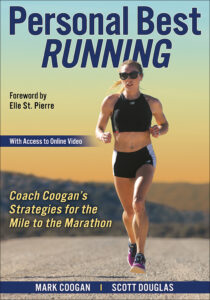 I'm happy to share that my latest book, co-authored with Olympian and New Balance Boston coach Mark Coogan, is now out. I think you should buy it.
When Mark asked me to write the book with him in the summer of 2021, I didn't hesitate to say yes, and not because I wanted to do a book with a fourth U.S. Olympic marathoner. Mark and I have been friends since the 1990s, thanks to him having run at the University of Maryland with two of my running buddies. We've even been clubbing in Goteborg, Sweden, together.
More important, Mark is a great coach and all-around swell person who knows how to get people to run their best despite having lots of other demands on their time and energy. (He did coach at Dartmouth and MIT, after all). So I was eager to help Mark present his ideas to ambitious everyday runners.
Although my personal best running days are behind me, I've internalized a few key lessons of the book and enjoy my running more than I otherwise would be if Mark and I hadn't done this book. I hope it helps you, too.
Comments are off for this post
Digg this